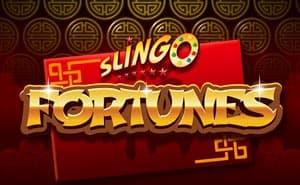 Slingo Fortunes
About Slingo Fortunes
Slingo Originals take UK Casino players on an oriental adventure across the grid of Slingo Fortunes, as a collection of 26 numbered envelopes adorn the grid concealing some potentially valuable cash values. Inspired by some of the most popular Chinese-themed casino games available, such as 88 Fortunes and Gong Xi Fa Cai, this online casino game is suitable for players of all abilities to enjoy - offering up a fantastic combination of the most popular features from both slots and bingo games. So if you're well versed in either predecessor, you're bound to get to grips with Slingo Fortunes easily.
If you're unfamiliar with how Slingo games work, don't worry! We here at UK Casino will cover all of the basic mechanics and features you'll need to know before playing, and you can always refer back to the in-game help sheet if you need any extra game-specific information.
How To Play Slingo Fortunes
The Aim
When playing most Slingo games, your aim is to fill the number grid with as many matches as you can to form winning 'Slingo' lines - the more lines you are able to form, the higher the payout potential will be. With Slingo Fortunes, each number on the grid holds a hidden value which corresponds to one of those either side of the grid - each time a match is made one of the possible values you can win is removed from play.
Stake
Use the (+) and (-) buttons to toggle through the available bet values until you reach an amount that is best suited to your bankroll. This wager will cover 10 consecutive spins, so it's worth double-checking that you're happy with the chosen value before you start the game.
The Lucky Envelope
At the start of the game, you will be asked to select one of the aforementioned envelopes to set aside. At the end of the game, you will be given a choice to make; open the envelope to reveal the payout you will receive or accept a cash offer in exchange for it. The offer will depend on the remaining values that lie either side of the grid - the higher the remaining values are, the more you will be offered.