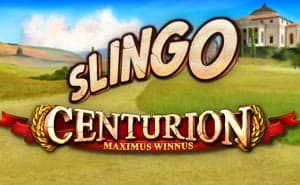 Slingo Centurion
About Centurion Slingo
The Roman forces besiege our collection of casino games once again as they storm onto players' screens in Centurion Slingo, presenting players with a brilliant combination of slots and bingo that offers innovative gameplay, bumper bonus features and fabulous payout potential to boot! Our online casino veterans may recognise this game as a revived edition of the player-favourite Centurion slot as Slingo Originals act to march this historical theme into the 21st century.
For those unfamiliar with how Slingo games work, the aim of the game is to fill up your number grid with winning lines by matching numbers with those randomly generated at the base of the game interface - if you're familiar with how online bingo works then you're sure to get a hang of Slingo pretty quickly. Use the spin button to generate a new set of symbols and numbers every round and any matching numbers will be marked off your card automatically. UK Casino players should also keep an eye out for the elusive Centurion appearing at the side of the grid, as he could appear to bestow gifts of free spins, additional matches and more!
Play Centurion Slingo at UK Casino, optimised and ready to play across mobile, tablet and desktop devices.
How To Play Centurion Slingo
Stake
Use the (+) and (-) buttons to toggle through the available bet values until you reach a wager you're happy with. It's worth noting that the bet you set will remain active and unchangeable for a total of 10 consecutive spins, so make sure the wager you choose is appropriately suited to your bankroll before you start playing.
Spin
Once your stake is set, begin the game by pressing the 'Start Game' button. This will cause the number generator to become active and any numbers on your grid that match the ones produced will be marked off automatically. Once the 10 initial spins are spent, you have the option to continue playing but will be given a set wager you must place if you want to progress and attempt to fill further winning lines.
Centurion Slingo Special Features
Reelus Maximus
Transported to the classic reels of the original slot game, players will be presented with a gargantuan 3x3 symbol that will appear on the reels as you spin and may help form some potentially valuable winning combinations.
Prizes on Parade
A selection of shield-shaped symbols that conceal a number of multipliers, arrows and 'collect' options to form a fantastic 'pick-me' style bonus feature that could see players landing a brilliant cash payout as you pick to reveal consecutive outcomes.
Caesar's Free Spins
Should you activate Caesar's Free Spins, you'll be presented with a random number of free spins to play through with a predetermined multiplier value attached where players will attempt to land some potentially valuable winning combinations.
Road to Rome
Roll the dice to help the Centurion advance along the path to Rome. Should he make it there before your roll count is spent, he will open the gates to reveal a bounty of prizes that could prove to be valuable.
Wild Power Free Spins
Upon triggering Wild Power Free Spins you will be given 3 free games to spin through, where a randomly allotted number of Sticky Wilds adorn the reels in random positions to help form those elusive winning clusters.