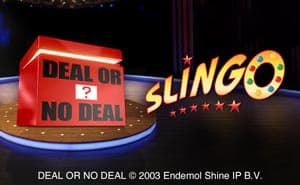 Deal Or No Deal Slingo
About Deal or No Deal Slingo
Slingo Original's game show-inspired Deal or No Deal Slingo presents a fantastically innovative game for our UK online casino players to enjoy, combining an array of the best features from the most popular casino games to offer up a brilliant hybrid that's packed with potential.
Play to spin through 10 rounds which see randomly generated symbols and numbers appear, potentially matching the numbers etched on the front of the instantly recognisable red boxes that adorn the game grid causing them to open and reveal 1 of 26 hotly-anticipated cash values ranging from low to high - hope to see the lower-paying blue values revealed, as this could mean you could harbour the top cash payout inside the Lucky Box you selected at the start of the game. Continue to spin and match in an attempt to form as many winning lines as possible. Once enough lines are made the banker will make that all-important call to offer a cash sum for your chosen box. But what will your answer be?
Play Deal or No Deal Slingo at UK Casino, available to play across mobile, tablet and desktop devices.
How To Play Deal or No Deal Slingo
Stake
Similar to slot games, use the (+) and (-) keys to toggle through the available bet values until you reach a suitable amount. It's worth noting that unlike with online slots, the wager you make in Slingo is active for a total of 10 consecutive spins as opposed to just 1 - so make sure you're happy with the amount you're wagering before you start playing.
Select Your Lucky Box
Arguably the most important step when playing any Deal or No Deal casino game. Once your stake is set you must choose one of the boxes to set aside, concealing an unknown cash value to be revealed and potentially awarded at the end of the game. Once enough winning lines have been made on the grid the banker will call you to negotiate a deal, offering up a cash sum to buy your box - the amount offered by the banker will be determined by the remaining blue and red values left to be unveiled.
Spin
Once both your stake and Lucky Box have been chosen, hit the 'Spin' button to begin playing and see the first set of randomly generated numbers - any boxes that display matching numbers will be opened and the revealed value removed from the board. Once the 10 initial spins are spent, you have the option to continue playing but for a price - the price of each additional spin will also be determined by the payout potential that remains on the board.